New Features
Load data from external sources
Complementing Boozang's excellent data handling capabilities is now the ability to use data from external sources.
The newest on this functionality can be found in our forum.
###
The data type to select is request data
(see image below)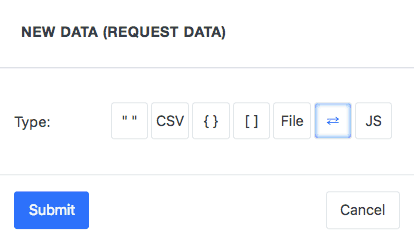 Data can either be in binary file format to support file upload scenarios, or as JSON or CSV data to enable form fills.

Boozang supports Dropbox links out-of-the-box so now it's easier than even to feed a test with data from external files. Simply upload the files to dropbox, and copy the sharable URL into the Boozang UI.